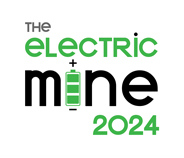 The Electric Mine 2024 conference
Be part of mining's journey to a net-zero future
The Electric Mine conference series was created because the industry is at one of the most significant crossroads in its history. One that requires new thinking, collaboration and an openness to technology adoption that has historically been missing. It is the essential platform for all companies involved in the mine electrification transition to showcase futureproofed solutions that will enable mining companies to achieve their interim and final emission targets to 2050.
Since 2019, The Electric Mine has become 'the platform' to highlight new and exciting technologies and adoption case studies in this field, with all three shows (2019, 2022 and 2023) more than doubling attendance from the previous meeting.
Designed to offer insights and expertise from those first movers, the event is a must for any OEM, mining company, service supplier, consultant or engineer looking to take part in the net-zero revolution.
Having assembled over 730 of the biggest decision makers in the mine electrification space in May 2023, in Tucson, Arizona, the stage is now set for The Electric Mine 2024, in Perth, Western Australia, and another sell-out event!
For the latest on sponsors, exhibitors, speakers and agenda please see www.theelectricmine.com