The entry of Metso Outotec into the bulk ore sorting space arguably heralds the beginning of a new stage of market adoption – one that is focused on significant throughputs across multiple commodities.
In May, the mining OEM announced a collaboration agreement with Malvern Panalytical, a company that has been using Pulsed Fast Thermal Neutron Activation (PFTNA) technology onboard its cross-belt analysers to analyse and help divert ore and waste streams with improved accuracy.
Up until that announcement, Metso Outotec had mooted the benefits of bulk ore sorting in several industry articles. On the smaller scale, it had also renewed its ongoing agreement with particle ore sorting major player, TOMRA.
The company said its agreement with Malvern Panalytical, which has previously worked on bulk sorting projects with Anglo American among others, brought together its expertise in crushing and bulk material handling solutions with Malvern Panalytical's ore analysis nous to offer an industry-leading portfolio of solutions for bulk ore sorting.
Rashmi Kasat, Vice President, Digital technologies at Metso Outotec, said in the press release that the pact with Malvern Panalytical would allow the company to meet the industry's increasing sustainability and resource efficiency needs in an enhanced way in the early comminution stage.
"Sensor-based bulk ore sorting and data-driven analysis upgrades low grade or waste stockpiles, making them economical and far less energy-intensive to treat," she said.
There are obvious positive benefits up- and down-stream of sensor-based sorting too, with the ability to carry out a low-cost mining method (upstream), as well as reduced capital investments in downstream equipment already shown with early-adopter projects.
That is before considering the relative energy and water reduction requirements that come with applying the technology.
Kasat later told IM that the company's existing portfolio of material handling modules, crushing stations or mobile crushing equipment, as well as bulk material handling solutions, already "complement" the concept of bulk sorting.
"The addition of the bulk sensor is easily achieved," she clarified. "The diversion mechanism will be included as well to be able to offer the whole plant out of one hand."
With crushing stations – at least in the in-pit crushing and conveying (IPCC) space – that can go up to 15,000 t/h (see the company's Foresight™ semi-mobile primary gyratory station), the prospect of Metso Outotec making a concerted effort to get into the bulk ore sorting space bodes well for the rising throughputs of projects.
NextOre recently claimed it had commissioned the world's largest bulk ore sorting system at First Quantum Minerals' Kansanshi copper mine in Zambia. This installation, which uses the company's magnetic resonance technology, comes in at a 2,800 t/h-rated capacity.
Scantech, meanwhile, recently confirmed it has a GEOSCAN GOLD installation using prompt gamma neutron activation analysis technology for bulk sensing/sorting up and running that uses a diversion system at conveyed flow rates of more than 6,000 t/h.
Kasat, without naming a range, confirmed Metso Outotec was targeting "higher capacities" in line with the sensors available on the market. She also clarified that the agreement with Malvern Panalytical was "non-exclusive".
"We will choose all our sensor/analyser partners strategically," she explained. "Malvern Panalytical has a leading position and history in this field with proven technology for ore sensing. We will leverage our and their Tier 1 position in the industry for our bulk ore sorting offering."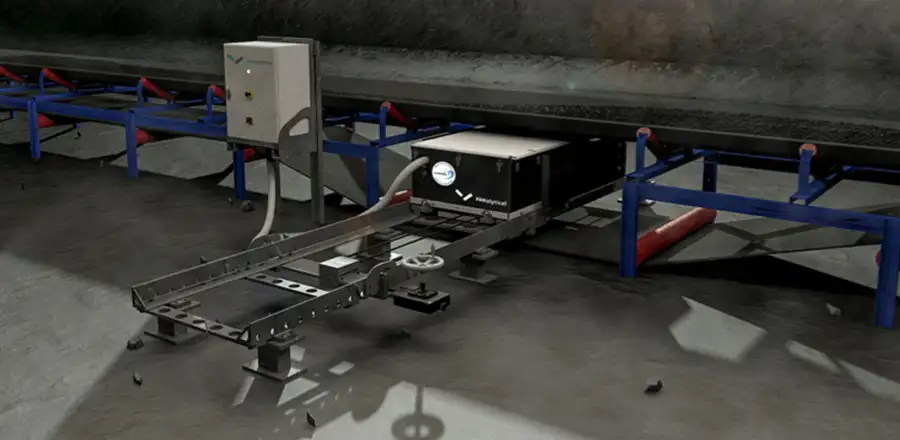 As the type of sensor to be employed varies based on several factors including mineralogy, plant capacity, application of bulk ore sorting, etc, Metso Outotec will identify the right partners for the right need, she explained.
The major constraints for these sensors are often measurement times and sensor penetration, according to Kasat.
"There are very few sensors out there that can do sensing of a 500-mm-deep bed of rock on a conveyor belt, moving at 5-6 m/s," she said. "But our current and future prospective partners are working on developing the technologies to reduce measurement times without compromising the accuracy of measurement."
The mining OEM is looking to, in most cases, provide 'plug and play' flowsheets for bulk ore sorting and then carry out the required customisation per sensor.
This plan reinforces Kasat's assertion that there is no 'one-size-fits-all' concept in bulk ore sorting applications.
For new projects, the process could see the company start with metallurgical testing, progress to mobile/fixed pilot plants in the "backyard" to test the accuracy of the sensors for the given application, and then find the right solution for the customer's use case.
Renato Verdejo, Business Development Lead for Bulk Ore Sorting at Metso Outotec, added: "For existing plants, we will install the sensor over the belt conveyor and analyse the results after selecting the right sensor for this sorting application."
Metso Outotec intends to focus on major commodities like copper, iron, nickel and gold, among others, with applications such as waste/ore sorting, low grade re-crushing and beneficiation process optimisation.
Within this wide remit – and in line with its non-exclusive agreements with Malvern Panalytical and TOMRA – the company is also considering the combination of both bulk and particle sorting in flowsheet designs.
"The combination of the superior throughput of a bulk application with the selectivity of particle sorting in a rougher-scavenger setup is something that can bring sorting to high volume mines in the future," Kasat said.
"Plant concepts and flowsheets have already been conceptualised and we expect the first deliveries to be in pilot stations to test the sensors on site," she added, saying that the tonnage requirements for bulk ore sorting sensor validation meant a bulk sensor would have to be piloted in the field to get statistically meaningful data about the properties of the deposit.
Metso Outotec's crushing system offering will form the "base" for these solutions, with ore sorting optionality available to all customers, she said.
This sensor-based optionality also overlaps with another in-demand part of Metso Outotec's business: IPCC.
The company's dedicated team in Germany are responsible for this area, developing projects backed by comprehensive studies.
They – like most of the industry – are aware of the potential application for sensor-based ore sorting in IPCC projects.
Markus Dammers, Senior Engineer of Mine Planning for Metso Outotec and one of the team members in Germany, said there were applications for both bulk and particle sorting in IPCC applications, with the former likely integrated after primary crushing and the latter after secondary/tertiary crushing.
"Bulk ore sorting in an IPCC application should be integrated after primary crushing in order to recover marginal material determined as waste in the block model, or reject waste from the ore stream," he said.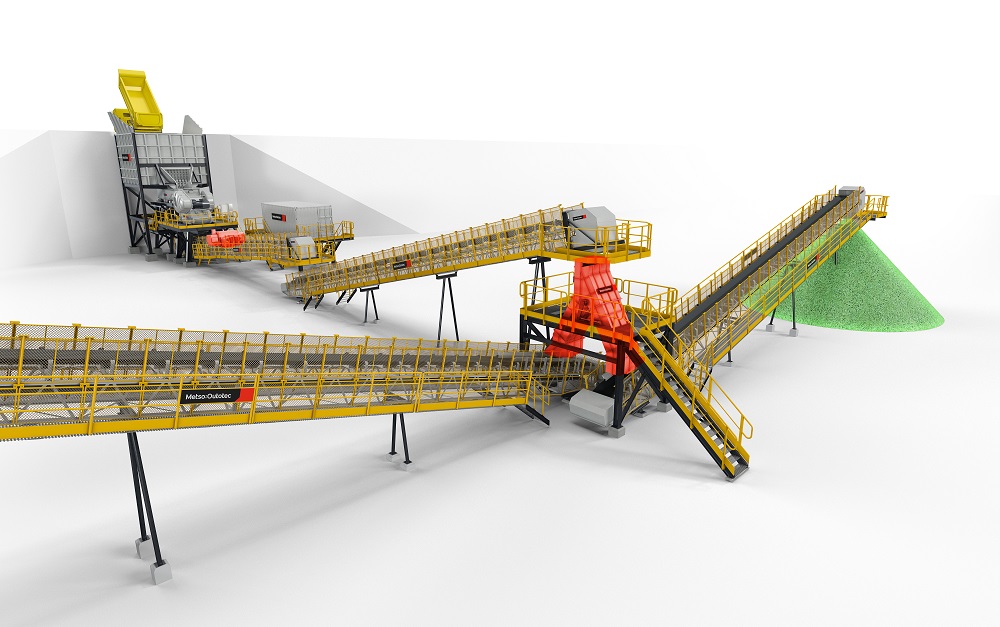 If integrated after secondary or tertiary crushing, it becomes less effective, with the ore's heterogeneity decreasing every time the ore is rehandled, transferred, crushed, blended, etc.
"In this manner one can take advantage of the natural variability in the deposit, rather than blending it out, with bulk ore sorting," he said.
After secondary and tertiary crushing, particle sorting may be applied as a "standalone or subsequent 'cleaner' process step", he added.
With Metso Outotec open to the inclusion of ore sorting in fully-mobile, semi-mobile and stationary crushing stations within an IPCC context, the company has many potential customers – existing and new – out there.
And that is just in IPCC applications.
The company also has hundreds of crushing stations on fixed plant installations that could represent potential sorting opportunities.
Metso Outotec, on top of this massive install base, has a few advantages over traditional ore sorting vendors in that it understands the plant that goes around the analysis and diversion process associated with ore sorting; knows how important uptime is to its customers; and, through sophisticated modelling, realises what impact changes in the flowsheet will have up- and down-stream of such equipment.
"The key point here is to have all the equipment to handle and process the ore to feed the sorter and, later, having the technology to divert the material and retain the availability of the plant without changes," Kasat said.
Energised by its Planet Positive aims of responding to the sustainability requirements of its customers in the fields of energy or water efficiency, emissions, circularity and safety, the company is now ready to flex its processing plant muscles to increase the industry's adoption of bulk and particle sorting technology.