Building on the success of the 994K, the new Cat® 995 Wheel Loader features up to 19% increased productivity than the previous model with its higher rated payload and 6% increase in hydraulic force with equal hydraulic cycle time, Caterpillar says.
This new loader delivers up to 13% lower hourly fuel consumption and offers up to an additional 8% efficiency gain when operating in Enhanced Eco Mode compared with throttle lock mode, according to the company. It is also up to 19% more efficient than the 994K in equal comparisons of throttle lock operation.
Enhancements to the front linkage include an improved casting design, increased weld size, larger bearings and pins, and profile changes for increased service life. New, larger capacity buckets available for the 995 incorporate an extended floor for fast loading, high fill factors reaching 115%, and excellent material retention. Buckets are interchangeable between the 995 and 994K.  
Built to the same size as the 994K but offering a higher rated payload, the new 995 enables a one-pass reduction when loading Cat 785, 789 and 793 mining trucks. This equates to up to a 33% increase in production and efficiency when loading the 785, up to a 25% increase with the 789 and up to a 20% increase with the 793.
The new 995 meets the global industry's demand for high production and greater payloads with its powerful Cat 3516E engine offering configurations based on regional needs, meeting EU Stage V/US EPA Tier 4 Final or US EPA Tier 1 equivalent emissions, the company says. Its 39% torque rise ensures high lugging forces during digging and acceleration in high rim pull conditions.
Comfort and visibility
The redesigned next generation operator environment for the new 995 has 50% more legroom and boasts features that improve operator confidence while reducing fatigue. Its pressurised cab reduces vibration feedback, lowers sound levels and includes automatic temperature control. Providing shift-long comfort, its new electro hydraulic speed-sensing steering with force feedback automatically stiffens when traveling at higher speeds and softens as speed decreases to boost operator confidence.
Designed for visibility, the cab's taller windshield provides a 25% increase in glass surface area and a 64% increase in wiper sweep area to better see the bucket. Two 254-mm colour LED monitors display machine control, operating functions and the electronic operator's manual. A third 203-mm screen offers a dedicated view of the standard rearview camera and is upgradable to a multi-view camera system that offers 270° vision with rear object detection.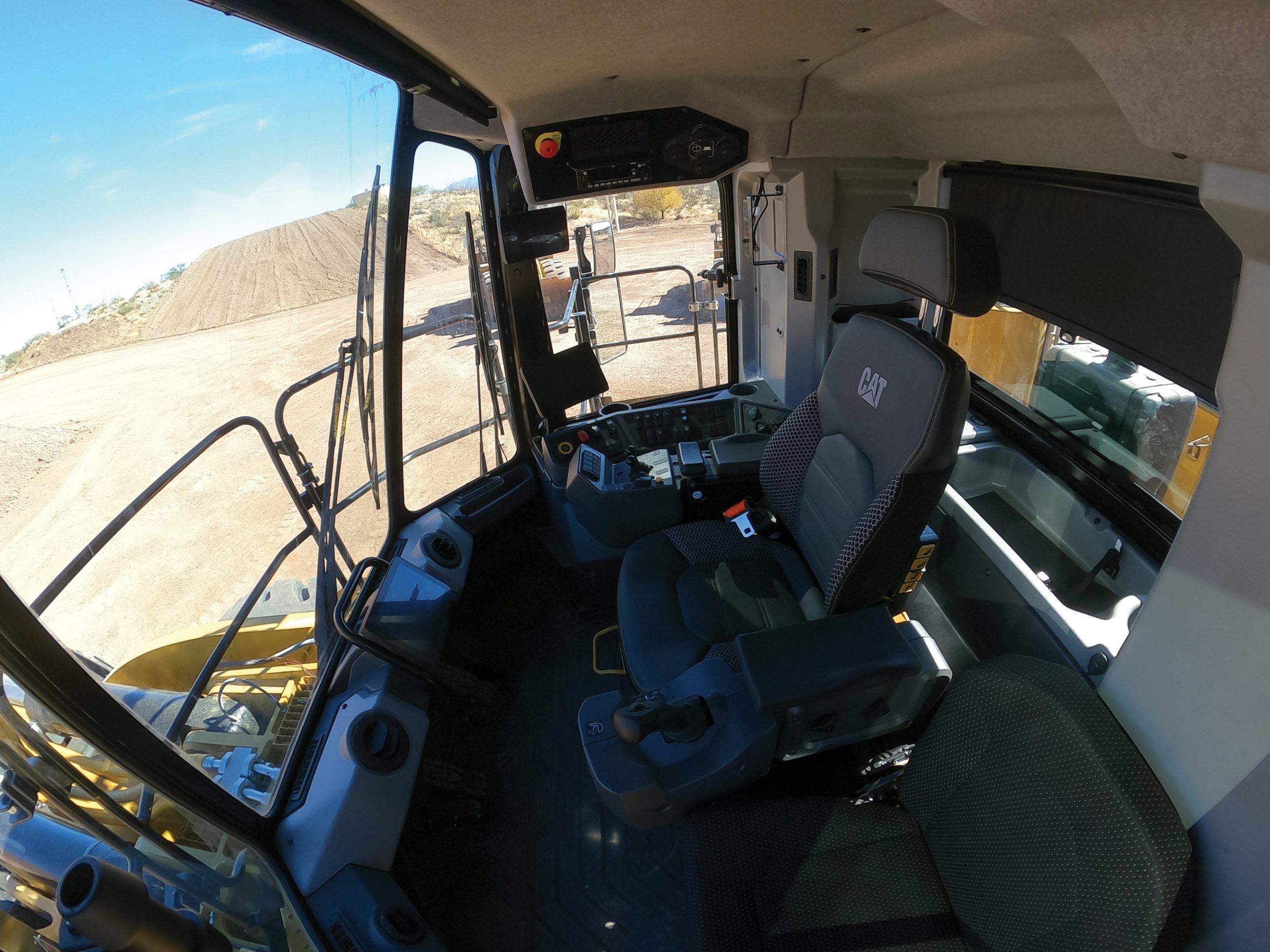 Access and egress to the cab along with all service areas being accessed from either ground level or a platform improves safety on the job. Wide stairs with full handrails on each side are positioned at a 45° angle for easy access. An optional powered access system – raised and lowered from either the cab or ground level – enhances ingress and egress to and from the rear platform even further.
Confidence-boosting technology
Integrated with electronics, the new Cat 995 wheel loader offers flexible levels of information and technologies for a smart machine and more informed operator, maximising the productivity of both. Standard tip up prevention technology avoids unnecessary stress on the drivetrain and structural components by delivering full breakout forces while preventing the back tyres from significantly lifting off the ground.
New optional Autodig components automate three of the dig cycle's most difficult parts in both rehandling and tough digging applications to improve productivity and reduce tyre wear.
Reducing tyre wear, Tire Slip Prevention reduces rimpull before the tyres are set and increases rimpull when downward force is applied. Auto Set Tires detects pile contact and automatically lifts against the pile to set the tyres and increase available traction, discouraging premature racking. Lift Stall Prevention manages rimpull in-dig to prevent hydraulic stall when lifting through the face, so the 995 spends less time in the pile.
An onboard interactive training tool, optional Operator Coaching measures and reports on individual operator behaviours that have an impact on efficiency, production and component life. Instructional videos provide training on measured behaviours, showing both the incorrect and recommended behaviours. Among 21 total monitored operating technique aspects, the system shows how to properly reduce tire rotation, avoid unracking in-dig, enter the pile with a level bucket, avoid excessive usages of the impeller clutch, reduce dump height and use the kick out.
Available Payload Overload Prevention improves productivity and efficiency by allowing a larger bucket to be used to achieve pass-match targets across a range of material densities without risk of overload. It is configurable to either stop or slow lift arms when the maximum allowed payload, including bucket weight, is exceeded.
Standard Vital Information Management System (VIMS) on the new 995 allows customers to connect directly to the machine to access a wide range of sensor information and enhanced machine data. Taking the guesswork out of asset management, standard Cat Product Link™ provides remote access to machine operating data via the easy-to-use VisionLink® interface. The 995 supports a variety of Cat MineStar™ solutions including Health, Guide and Terrain.
Reduced maintenance
Offering a 500-hour engine oil change interval and improved air filter life, the 995 spends more time working. The number of steering hoses has been reduced from 15 to 10 and tubes cut from 11 to one to improve steering system reliability. An enhanced service station provides access to functions like coolant and oil as well as level indicators, and it features a Cat battery charging connector and indicator lights for fuel tanks.
The loader's redesigned pump bay improves access to transmission components, offers discharge ports on the side of the pumps and has simplified lines routed directly to the high-pressure screens. The bay includes a brake pump filter, implement pilot filter and implement discharge screens, and diagnostic ports are accessible from the front walk deck and pump bay. Ground line service now includes a steering pilot filter, transmission filters and steering pump discharge screen.