Among the new applications, technologies and data analytics Freeport-McMoRan is advancing as part of a plan to improve copper recovery from its leach processes in North and South America is Jetti Resources' patented catalytic technology, the company has confirmed to IM.
In its December quarter and 2022 annual results, released late last month, the leading copper miner said it believed the leach innovation initiatives it was pursuing provided potential opportunities to produce incremental copper from its large existing leach stockpiles and lower-grade material currently classified as waste.
The company has been exploring the potential for incremental low-cost additions to its production and reserve profile for some time, saying in the latest results release that it had identified opportunities to achieve an annual run rate of 200 MIb/y (90,718 t/y) of copper through these initiatives by the end of 2023.
Freeport has a long history of copper leaching production with its Americas division, which includes assets such as Morenci and Cerro Verde, having developed and implemented industry-leading technologies for leaching of oxide ores.
The company has been pursuing internal and external initiatives to expand this leading position, focusing on traditional ores and sulphide orebodies that have been typically considered difficult to leach, like chalcopyrite.
This is where Jetti's technology comes in.
The Colorado-based company has developed catalytic technology to allow for the efficient and effective heap and stockpile leach extraction of copper. This bolts onto existing solvent extraction/electrowinning (SX/EW) leaching plants so it can be deployed rapidly with limited capital expenditure and, because it uses no heating or grinding, has low operational costs. In addition, there are huge environmental benefits from using leaching over pyrometallurgy, according to Jetti.
A Freeport spokesperson confirmed to IM that the company was in a trial of the Jetti technology through "a commercial installation" at its Bagdad mine in Arizona, USA. This mine is one of its major leaching test hubs, with the company targeting over 3 MIb/y of incremental copper cathode production from the open-pit copper mine through this work.
Bagdad has a 77,100 t/d concentrator that produces copper and molybdenum concentrate, an SX/EW plant that can produce approximately 6 MIb/y of copper cathode from solution generated by low-grade stockpile leaching, and a pressure-leach plant to process molybdenum concentrate.
The spokesperson added: "There is potential to expand production via the treatment of additional stockpiles at Bagdad in the future based on results."
The use of Jetti's technology is one of several leaching initiatives the company is pursuing – some with outside vendors, some using its own technology and some with joint venture partners.
All of these are focused on not only adding low-cost production to Freeport's large production base, but also achieving a lower carbon footprint.
Jetti, which Freeport is an investor in, has been conducting a carbon footprint study and Life Cycle Assessment (LCA) of its technology, with the LCA including analyses of typical copper mining operations without Jetti's technology and a mining operation with Jetti's technology installed. The LCA is being conducted in conformance with the ISO 14040/44 standard and will be critically reviewed by an independent expert.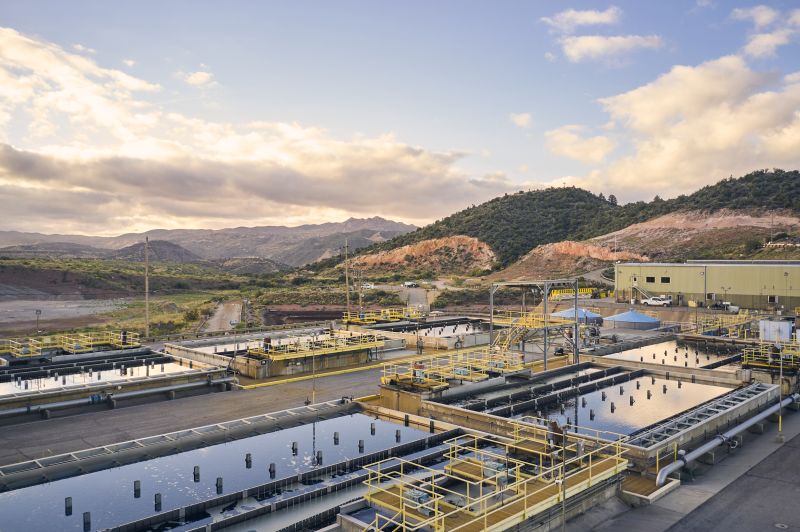 Jetti has also committed to starting to track water usage and waste at all its operations and sites, which includes the installation it has at Capstone Copper's Pinto Valley operation, also in Arizona.
At Capstone's operation, Jetti technology is being used extensively as part of a plan to recover up to 350 MIb of cathode copper over the next two decades from historic and new mineralised waste piles.
Teck Resources has also taken an interest in Jetti's technology having signed an agreement for the evaluation of the solution at a number of Teck's assets with potential copper resources outside of existing mine plans. BHP, through its BHP Ventures arm, is also an investor in Jetti.
As to Freeport's wider leaching plans, it said it was looking to use data analytics to provide new insights to drive additional value, while new applications to retain the heat in the stockpiles were "yielding results".
The company has assessed that it has some 38,000 MIb of contained copper in leach stockpiles deemed "unrecoverable" by traditional leach methods. Of this amount, about 50% is from the massive Morenci mine, which already has leaching production capacity of 900 MIb/y of copper.