As part of a strategy to reduce carbon emissions from its operations and achieve a 'net zero' status by 2050, Gold Fields is investing in three Caterpillar R2900 XE diesel-electric loaders for its underground mines in Western Australia.
The gold miner's ESG strategy, launched in December 2021, was at the same time embedded as one of three pillars in the company's strategy. Gold Fields has demonstrated this focus over the last few years, especially when it comes to its efforts to decarbonise its mining operations.
In addition to constructing and commissioning several solar plants, renewable microgrids and low-carbon gas turbines across some of its operations in South Africa and Australia, Gold Fields has been at the forefront of decarbonising the load and haul part of the underground mining cycle.
In 2021, Gold Fields started trialling a Sandvik LH518B 18 t battery-electric underground LHD, in addition to a 50-t-payload battery-electric Z50 truck, also from Sandvik. The machines were put through their paces at the Hamlet North mine, part of the St Ives operation, near Kambalda in Western Australia. The results of these trials were shared with members of the Electric Mine Consortium (EMC).
Rob Derries, Unit Manager: Innovation & Technology at Gold Fields Australia, says the results from testing the loader and truck at St Ives have shown the need for an alternative to assist the battery swap functionality for its local underground mines.
"The depth of our mines and the resultant ramp inclines indicate that a battery swap system alone will be a challenge from an infrastructure or financial perspective when rolling out on a larger fleet-wide basis," he told IM.
Alongside this work, Gold Fields has trialled a hybrid diesel-electric drive Komatsu WX22H (formerly the Joy 22HD), which uses a Kinetic Energy Storage System to capture and reuse braking energy from each of the four wheels, reducing fuel burn and boosting productivity, according to the OEM and Gold Fields.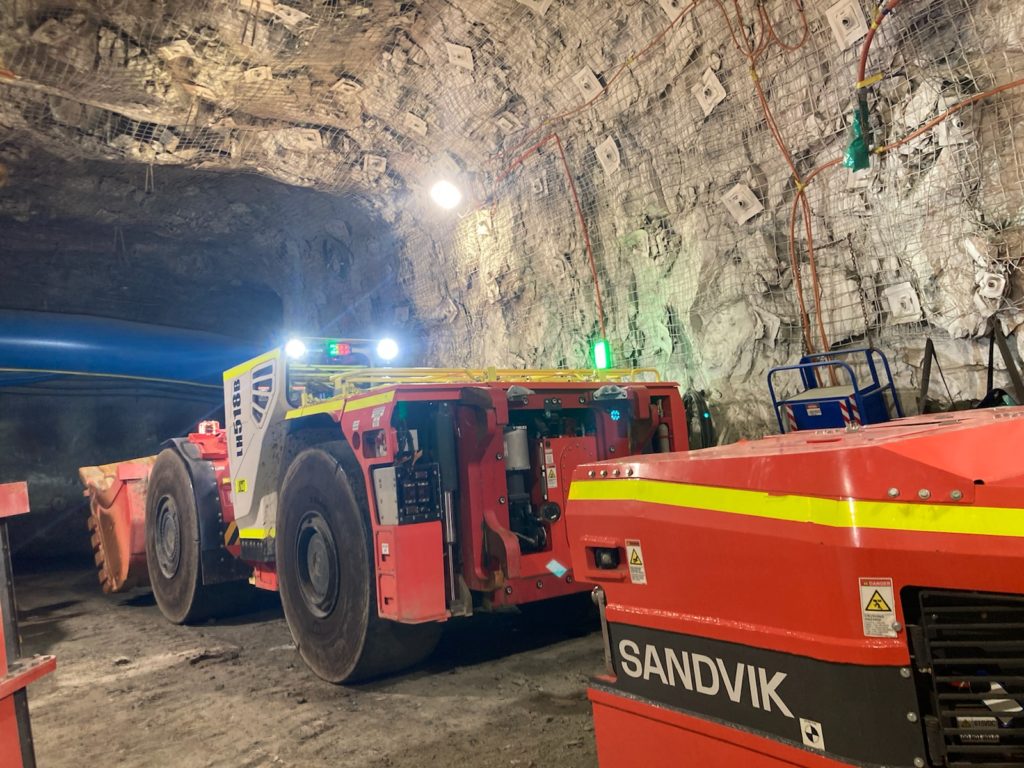 Now, the company has committed to bringing three Caterpillar R2900 XEs into two of its underground mining operations, according to Derries.
Built on the platform of Caterpillar's most popular underground loader, the R2900G, this LHD features a switch reluctance electric drive system alongside a Cat C15 diesel engine, which offers up to 335 kW of power. The OEM says the machine comes with about 30% increased fuel efficiency compared with the R2900G, with its lower engine revolutions per minute resulting in reduced fuel burn, heat, noise, vibration and exhaust emissions.
Derries said Gold Fields does not consider the R2900 XE a "hybrid" machine given it has no battery or energy storage component on board, but stressed that it still offers the reduced fuel burn and productivity advantages the company is looking for as part of its modernisation strategy.
"From the field-follow trial reports we have seen, it can produce a 35% fuel burn reduction," he said. "This is why we consider it to be part of our plan to transition our operations to zero emissions, just like the Epiroc machine we are working on."
Last year, Gold Fields entered into a Memorandum of Understanding with Epiroc to develop and test a proof of concept for the 65-t class Minetruck MT65 E-Drive with the aim of having a prototype diesel-electric truck running at the miner's Granny Smith mine, near Laverton in Western Australia, in late 2024.
Derries says the company is also continuing discussions with all OEM partners on potential battery-electric vehicle deployments at its Australian underground mines, explaining that variations on trolley infrastructure, battery charging and battery swapping were being evaluated.
EMC collaboration builds confidence
The field-follow trials Derries references were integral to Gold Fields making the investment in the Caterpillar diesel-electric vehicles.
"In Australia, there were four field-follow units that Cat sent out, all of which went to EMC member operators," he said. "The feedback and learnings that came back from these trials, which was shared internally within the consortium, provided the confidence we needed to make the investment decision."
The EMC is a growing group of leading mining and service companies, all of whom are driven by the imperative to accelerate progress towards the fully electrified zero CO2 and zero particulates mine. In the short time since establishment, the consortium's membership has grown almost two-fold with over 40 equipment trials in 15 different locations mobilised.
Outside of these Caterpillar R2900 XE field follow units, Westgold Resources took delivery of the first commercial R2900 XE at its Midwest operations in Western Australia, as part of an agreement with WesTrac. The mining company has since agreed to purchase another six of the diesel-electric vehicles.
A separate R2900 XE is due to be delivered to another mining operation in Australia later this year, IM understands.
Derries says Gold Fields has felt the benefits of signing up to the EMC.
"The EMC is a great platform for operators like us to gather information without having to trial everything out there," he said. "Like the companies that shared their data from the R2900 XE field-follow trials, we shared the learnings from our Sandvik trials – not just our operational performance data.
"We were then able to do a cross check between our battery-electric trial data and the field-follow trials from the Caterpillar machines, giving us the confidence to invest in the three LHDs."
Derries says the new units are expected to arrive at its operations in the next 12 months.