Close to four years after release, Weir Minerals Vulco® 67 rubber compound is providing exceptional wear life and reliability in mill lining systems, according to the OEM.
These abrasion- and impact-resistant rubber compounds have been developed with advanced technologies by the Weir Minerals' team of expert engineers and material scientists who are continually refining Vulco rubber products to keep them at the forefront of mill lining systems technology, the company says.
Having identified a need for higher-wearing rubbers for mill lining systems, the material science experts commenced developing an industry leading, premium-grade rubber compound with superior wear life and performance in mill lining applications. The result was the Vulco R67 rubber – a material manufactured with proprietary new compounds and innovative methods of processing to deliver outstanding wear life and longer uptime, Weir Minerals says.
Extensive field research, compound testing and site trials were conducted to ensure it was not only able to withstand severe abrasion in typical mill system applications, but that it is best in class, the company said.
"In fact, it has been the most wear-resistant rubber compound that Weir Minerals has ever developed for mill lining applications," Weir Minerals said. "The R67 compound boasts a high hardness, elongation, tensile and tear strength, and is suitable for lifter bars, head/shell plates and grates. When it's utilised in conjunction with metal cap mill liners, the result is a versatile, economical and efficient product that weighs up to 50% less than steel alone.
"The added benefit is a lighter product that's faster, easier and safer to install."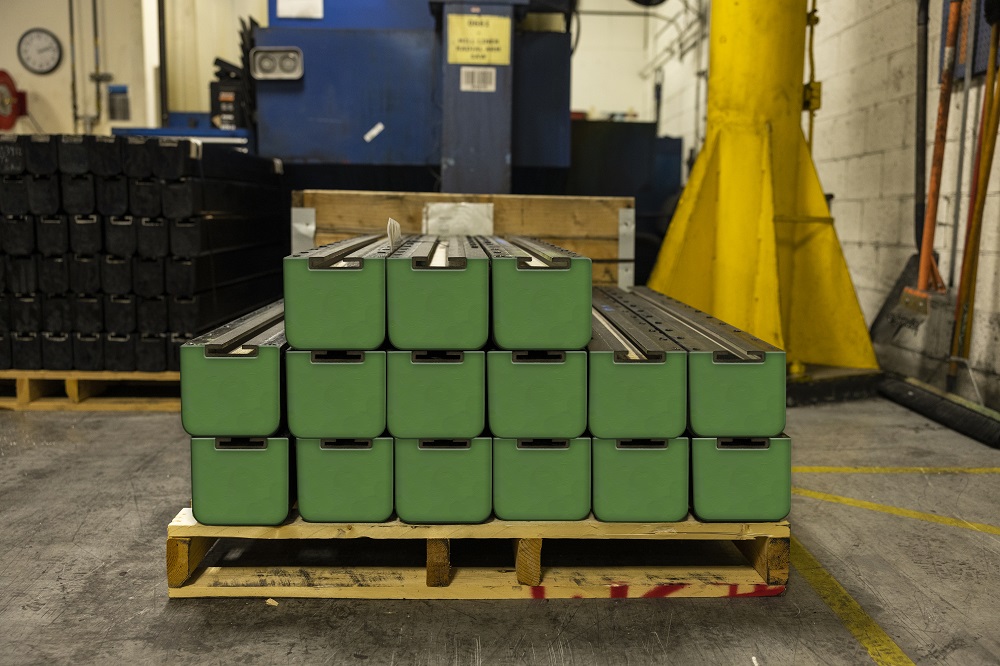 Revolutionising wear lining
Since its launch in 2018, many mining operators from around the globe have implemented the R67 compound into their mill lining systems, according to Weir Minerals. They have reported as much as 20-40% improvement in wear life, which is resulting in fewer mill lining replacements and longer mill campaigns. This reduction in shutdowns has a dual benefit of increased cost savings and improved plant availability.
With a liner that can run significantly longer, operators have experienced a wide range of benefits including:
Improved wear life;
A measurable reduction in mill downtime;
Increased uptime and processing;
Easier and safer installations; and
Reduced maintenance costs.
In-field success
Extensive global trials and commercial installations in the market have resulted in several successful outcomes across a variety of different grinding applications.
As an example, a high-grade nickel and copper mining project in the US had a problem where the liners in one ball mill were wearing out too quickly, leading to continued downtime and reduced processing. The operation was looking for a product significantly superior to the elastomer it was using. Initially there was reluctance from the mine, as it had loyalty to its original mill supplier, however after Weir Minerals conducted a series of trajectory simulations and discrete modelling – to optimise the design and deliver the best process performance for the mill – it agreed to trial the R67 liners.
At the end of the trial, the R67 showed 30-40% better performance than the incumbent liners and the customer installed a full set of R67 liners in its mill.
Another trial in the US took place in an iron ore mine with several dozen ball mills in operation. Here, Vulco R67 liners delivered a 17% increase in life compared with the failed shell plates from the mine's original mill lining system supplier. The company has since installed a complete shell liner in its ball mill.
Moving to Chile, a copper mine was keen to trial the R67 compound to see if it could improve the wear time of a competitor rubber liner. After a three-month trial, all liners were physically measured showing the Vulco R67 liners fully worn wear life projected from the actual wear would be 80% longer compared with the incumbent liners.
Another copper processing plant in Chile trialled R67 composite liners in its SAG mill against two other compounds commonly used in the industry. After 12 months, there was a 48% and 62% wear life improvement on the other liners – proving the R67 composite liners could withstand the highly abrasive environment.
Vulco R67 mill liners are made exclusively at Weir Minerals facilities in North and South America, Australia and South Africa, with plans to expand production into more regions in the future.