"There is consensus in the industry that once we start doing electrification, we will innovate much more in other areas of the mining space."
If anyone in the mining sector thought electrification was not in their wheelhouse, Theo Yameogo's words might make them think again.
Yameogo, Partner and National Mining & Metals Co-Leader at EY Canada, made such a statement during The Electric Mine Virtual Conference earlier this week. The event, organised by International Mining Events, brought leaders in the electrification space together to discuss the latest developments in the industry, of which there were many.
The stage was set for mine electrification reveals, and Henrik Ager, President of Sandvik Mining and Rock Technology (soon to be Sandvik Mining and Rock Solutions), did not disappoint, acknowledging that the company is currently working on development of what would be its largest underground truck: a battery-powered 65 t vehicle.
This was all part of the company's aim to have a "full range electrified offering by 2022", he said.
Azizi Tucker, Co-Founder and CTO of XING Mobility, was next up, providing an overview of the Taiwan-based company's offering in his presentation: 'Electrification from prototype to mass production'.
With a remit to provide commercial, industrial and specialty vehicle makers with modular, high power and safe battery and powertrain technologies, XING is making an entrance into the mining space at just the right time.
Tucker talked attendees through the elements that make the company's IMMERSIO™ battery solutions ideal for the mining sector: "With the modular size and shape of our batteries, we can really suit any vehicles. We find this very popular with the original equipment manufacturers (OEMs) as they can utilise their existing chassis."
The elimination of corrosion, ability to operate consistently in high-temperature environments, a variety of sealing techniques and the use of nickel-manganese-cobalt lithium-ion chemistry has allowed the company to provide the safe and enclosed battery solution miners are looking for.
He concluded by saying XING was in conversation with a variety of mining companies, mining OEMs and mine site operators about deploying solutions in the space.
Attendees were then treated to a demonstration of Tembo 4×4 e-LV's Electric Cruiser via video during the session: 'Green conversions: the Tembo 4×4 e-LV electric light utility vehicle platform' (pictured below). They got up close and personal with the battery-electric utility vehicle as it travelled on- and off-road close to the company's Netherlands HQ.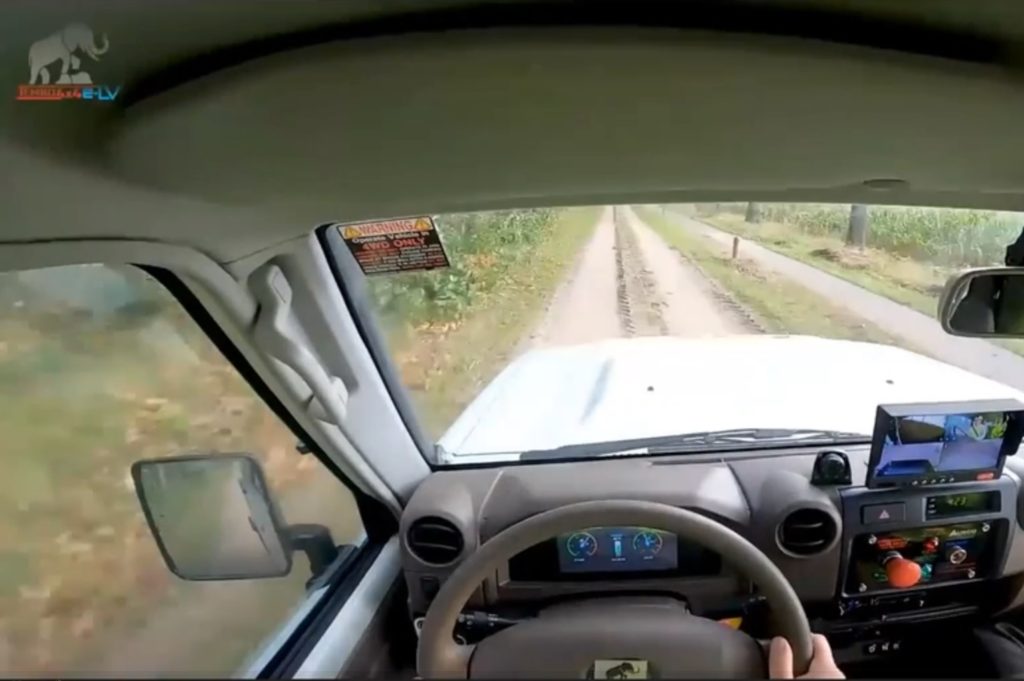 After a 15-minute demo showing off the Electric Cruiser's attributes, Paul Smeters, Tembo 4×4 e-LV's Marketing Manager, and Alexander Haccou, Tembo 4×4 e-LV's Technical Director, joined the event to answer audience questions.
The inevitable query came up early during the live Q&A: have you tested this vehicle in an underground mine?
Haccou was prepared for this, explaining that Boliden's Tara underground zinc-lead mine in Ireland was the first recipient of the company's Electric Cruiser, and a unit had been operating there for a few years now observing many of the maintenance benefits battery-electric machines are becoming renowned for.
The Electric Cruiser has also been tested in Australia and Canada with the help of Tembo 4×4 e-LV partners in those regions, he added.
"We don't use fast charging or battery swapping," Haccou said in response to another question. "What we have seen in several mines is the daily amount of usage is less than the battery's full capacity."
After several questions related to an active thermal management system for batteries had come up in previous sessions, Nicolas Champagne's entrance to the virtual event proved timely.
His presentation, 'Battery thermal management system using a highly advanced dielectric fluid', homed in on the use of a dielectric fluid with specific features to allow direct cooling of the battery electrochemical cells.
Champagne, Formulation Team Manager of the R&D department for TOTAL Lubricants, revealed results from use of the fluid in bench tests and simulations at the battery pack level, extrapolating what these results could mean for battery-powered vehicles in the mining sector.
He said the company is in discussions with at least one mining customer about deploying its fluid on a battery-powered vehicle.
After previous sessions had discussed the potential for fast charging and battery swapping, Champagne made clear that TOTAL Lubricants' solution would prove beneficial in all battery-powered applications throughout the mining sector.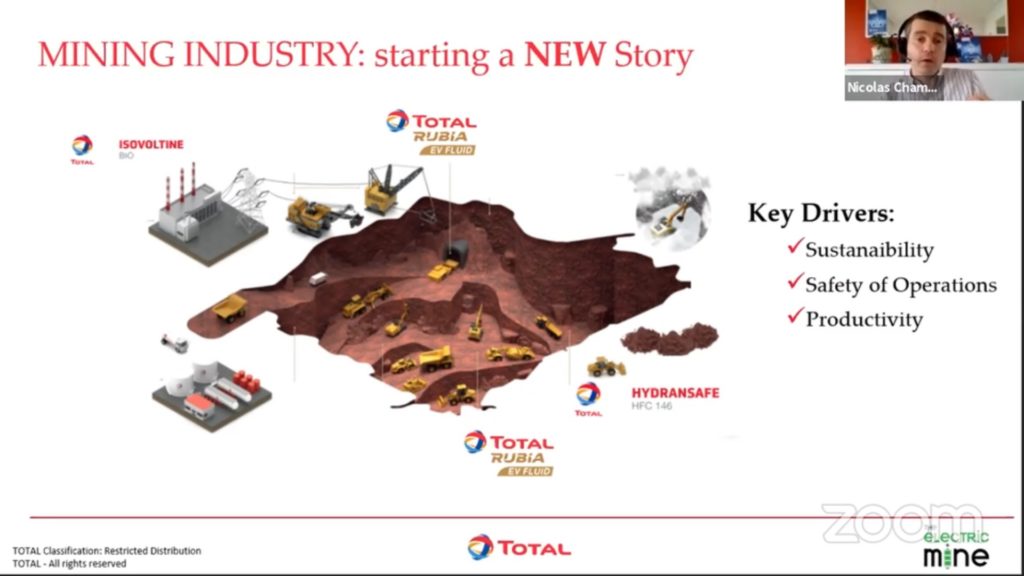 Following a lunch break, it was the turn of Epiroc's Anders Hedqvist (Vice President of R&D, underground) and Franck Boudreault (Electrification Transformation Lead, underground) to deliver a scoop (pun intended).
The pair, during their presentation, 'From one generation to the next – learnings from zero emission mining', took it in turns to provide updates.
Boudreault revealed the company's plan to create battery-electric conversion kits for not only Epiroc diesel-powered equipment out in the field but other OEMs' machines, before Hedqvist disclosed the company's in-development battery-electric 18 t LHD would be trialled at LKAB's Sustainable Underground Mining (SUM) project in Sweden. Epiroc has already delivered a diesel-powered Scooptram ST18 to be trialled in autonomous mode at the SUM project.
It was Yameogo, a mining engineer with much experience operating in underground mines in Canada, that provided the event's big picture talk in his presentation, 'Will electrification spark the next wave of mining innovation?'
He talked up the need for industry collaboration between miners, OEMs and service providers in not only electrifying equipment and operations, but also other types of technology.
"That type of collaboration and co-creation framework will actually help mining companies also think about innovation and other items part of electrification and equipment, in general," he said.
The focus narrowed slightly to open-pit electrification during Dr Bappa Banerjee's talk, 'An electric future for mine haulage'. Dr Banerjee, General Manager of Mining Equipment for Wabtec, emphasised from the off that there was no one-size fits all solution to going electric in this sector.
"It's becoming clear to us…that perhaps it will be a combination of technologies that really help us get to a solution that is feasible," he said.
This solution, he said, depended on the mine application and haulage scenario, underlining the need for technology flexibility.
In his presentation, Dr Banerjee pitted a diesel-powered haul truck with 2,500 horsepower (1,864 kW) as his baseline solution against a hybrid solution with a 2,500 hp diesel engine and 200 kWh battery as one alternative, and all-electric truck platforms equipped with trolley assist (with 800 kWh battery) and stationary charging (1,200 kWh battery).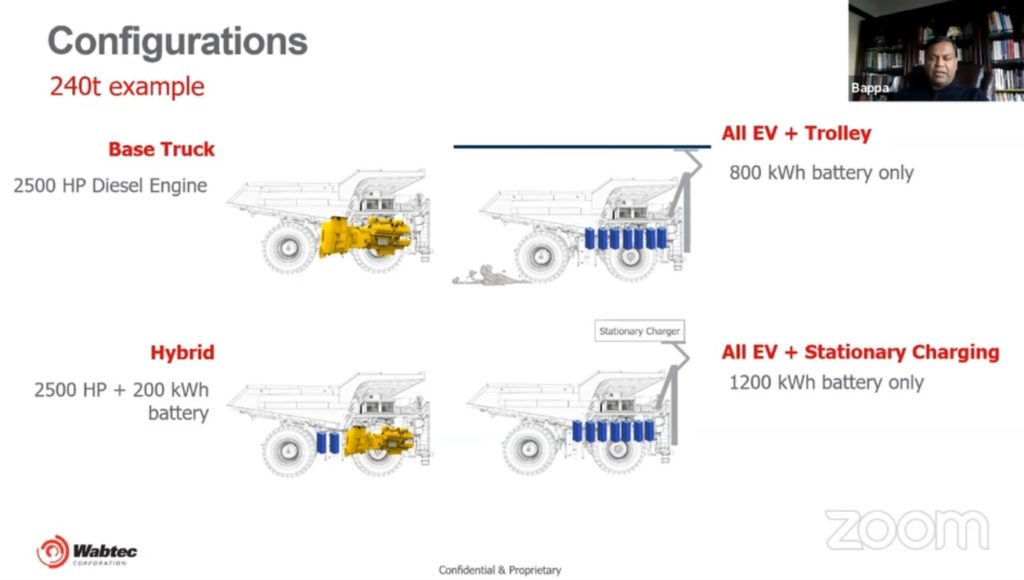 The energy cost versus productivity outcome he showed proved his earlier point about different applications suiting different solutions, with varied results depending on if these trucks were deployed on downhill, uphill or flat hauls.
GE Transportation, since merged with Wabtec, has previously demonstrated a battery-diesel hybrid solution on a Komatsu 830E-1AC and Wabtec has plans to release trolley solutions for Komatsu 830E-5 and 930E-5 haul trucks in 2021, so this analysis includes hard industry data.
Dr Banerjee concluded on the decision-making aspect of going electric: "These are not just point in time decisions we have to make regarding the CAPEX and where we are in the lifecycle of the mine, but decisions across decades sometimes.
"Perhaps the best way to approach this would be to start with a technology that is more flexible up front or has more options."
Brian Huff, Vice President of Technology for Artisan Vehicle Systems, a Sandvik Mining and Rock Technology business unit, used his presentation to reinforce that battery-powered solutions were the way forward in the underground environment.
'Rethink the machine, not the mine' was the title of his presentation and Huff stayed true to it from the off: "The basic message is that this is not as hard as you think it is. There is a real big change coming to the mining industry, but it may not be as difficult as you think to accomplish a conversion to battery-electric equipment."
Similar to Hedqvist's mention of the newfound freedom available to engineers when designing these next generation battery-electric machines, Huff explained that Artisan's generation three BEV blueprint started with a battery-electric driveline and built from there.
"Major parts of the frame can be removed to facilitate swapping…[and you can have] double to triple the power density of the machine (compared with the diesel-powered equivalent) to improve performance," he said.
He moved on to tackle the usual range anxiety question head on, displaying a video of a 13 km haul on a one-in-seven grade. Within this, he showed that the ability to swap batteries during the uphill haul meant there was no loss in haulage productivity when compared with the a similar payload diesel-powered machine.
The time losses related to battery swapping – around six minutes per swap with the Z50 – were more than offset by the increased haulage speed, according to Huff. "It is about 10% faster on the climb," he said when comparing the BEV unit with a conventional diesel truck.
Productivity could be further boosted with the introduction of Artisan's patented AutoConnect system. Fitted on the company and Sandvik's newest 18 t payload LH518B LHD, this system allows the battery swap to be completed in well under five minutes, according to Huff. IM understands an AutoConnect retrofit option could allow the Z50 haul truck to match that swap time.
Add to this productivity benefit, decreases in operating cost and total cost of ownership, and it is hardly surprising Barrick recently signed off on a trial of four of these Z50s at its Turquoise Ridge joint venture gold mine in Nevada.
Safety, cost, maintenance, productivity and even battery life; you name it, The Electric Mine Virtual Conference discussed it.
The good news is a second dose of electrification talk is only four months away, with The Electric Mine 2021 conference taking place on March 15-16, 2021, in Stockholm, Sweden.